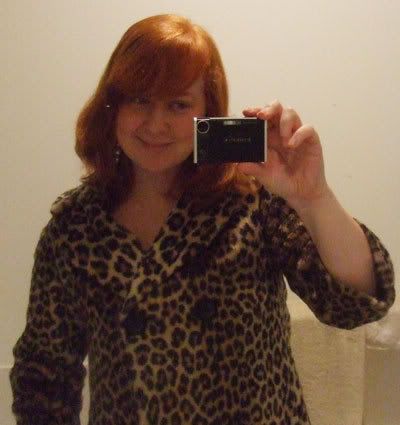 There are a couple of prints that I simply cannot go past - navy & white polkadots, anything stripey (but especially a breton stripe) and leopard.
I love leopard as it reminds me of 50's kitch mixed with pin-up girl style, which is right up my alley. I make it a point to obviously not wear more than one leopard print item at a time, as otherwise it can stray into the land of tackiness.
I actually only have three leopard items in the house (two leopard print faux fur cushions, and a lampshade that my friend Miranda helped me make) but wardrobe-wise own a leopard print beret, pencil skirt, ponyskin clutch and the vintage coat I'm wearing in the photo above.
Now, keeping in mind that I'm currently rocking my new pair of trenery cigarette pants week after week, and also do have a lot of black....do you think a pair of leopard ballet flats would be pushing the leopard-limits?